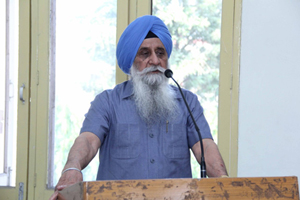 Col. (Retd.) Jasmer Singh Bala
Secretary, Sikh Educational Society
Sikh National College, Banga is located on a piece of land that was sanctified by the holy presence of Guru Hargobind Sahib and now it is permanently blessed by the Gurudwara Charan Kanwal Sahib overlooking it.
Sikh National College is one of the leading colleges of this part of the Doaba, especially in the semi rural area. it is spreading ceaselessly, the light of knowledge, far and wide. The college has always distinguished in academics, sports activities, cultural affairs and in various other areas of activities. The college has in place best infrastructure, state-of-art library, well equipped laboratories, a gorgeous playground and lush green parks to give a treat to eyes. Above all, the experienced and innovative faculty of the college makes it sure the students move ahead in their career, in sync with changing scenario. The college continues to persevere on the front of disseminating quality stuff to the students, ably led by Dr. Kulwant Singh Randhawa. i am sure that this college will keep on exploring new vistas of knowledge in futureas well. i extend my complements and greetings to the students seeking admission in this institution. May God Bless you!