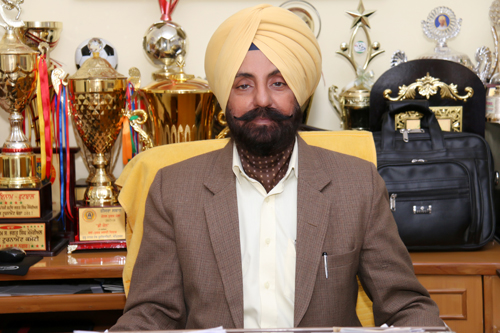 Dr. Kulwant Singh Randhawa
M.Sc. (Mathemetics), M.Phil., Ph.D.
Principal
Dear Readers,
I am immensely pleased and gratified to interact with you through the Sikh National College, Banga, website. This mode of communication amply demonstrates that the college is moving ahead in synch with the fast changing world of technology and is alive to the global scenario. I believe that this will go a long way towards providing you an instant access to information about this renowned college and address your queries and concerns at the click of a mouse. Your suggestions for a better administration and more effective imparting of education to the students will be highly appreciated and implemented if found within the realm of practicability and in accordance with the norms set by Sikh Educational Society, Govt. of Punjab and Guru Nanak Dev University, Amritsar. This web site will, indeed, showcase all the educational, cultural, religious and developmental goings on of the college.
The world has shrunk into a well-knit global village thanks to revolution in the I.T. sector and other electronic gadgets. Obviously, the job market has also become globalized– outsourcing enabled/ qualified workers to work for multinational companies, staying at home. What you need is right kind of knowledge and proper guidance. This is what our website is going to do, of course among other things. You are invited to log on to www.sncbangaonline.com for more information and get yourself registered with our web site.
More importantly, this website will act as a rendezvous for old students to contact one another and share their experiences. Eventually, they can explore the possibility of forming session-based alumni association so that they can meet periodically on regular basis. This will be an intellectual forum where the participants can share their job experience and more enlightened ones can speak of better avenues for brighter future. Emotional satisfaction will be a kind of bonus. When our web site gets more space, we can also post the pictures of old students on the basis of the year of their batch and class and thus clear and revive the fuzzy imageries of the past.
I also call upon our old students in India and abroad to log on to our web-site to know more about the college and contribute to its development. As most of you are aware, the college is in the process of renovating, repairing and constructing its building. A lot has already been done and a great deal yet remains to be done. If you step by the college at your convenience, a casual look even from a distance at the college building will make you perceive the difference. The work is going on, constraints notwithstanding. You have always stood by us and I am optimistic that you will not fail us even now. What might be just a mite for you, will be our might and elixir for the health of your alma mater. Churchill once said very aptly: first we plan our buildings; then our buildings plan us. When completed it will be a place where fantasy meets reality and the people will gape at it.
I would also like to touch upon one forgotten and neglected aspect of the college. One of our teachers found during his travel in North America in the summer of 2008 that the students are very nostalgic and eager to know about the wellness of their teachers who are now retired. With this in mind, we shall post their brief profiles and thus honour the emotional urge of our beloved students abroad.
Wishing you a great success in all your deeds, I would like to conclude with a single poetic word which means: Go higher and excel -Excelsior.
God bless you all!