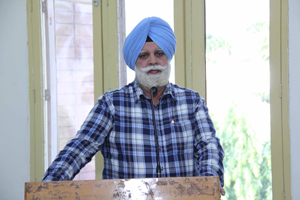 S. Rajbinder Singh Bains
Dear students,
Sikh National College, Banga has steadily grown into a unique, premier and pace setting institution in Doaba region.Over the years, it has shaped the talent and aspirationsof bright young students. Founded in 1953, it has made tremendous progress and is all set to give a fillip to education by effecting a conferrence of traditional values and modern ethos.
Under the able guidance of Sikh Educational Society, Principal and its diligent staff, the college is progressing by leaps and bounds. The hi-tech laboratories with latest equipments, workshops, playgrounds, stadium and the most innovative teaching aids and research methodologies used here in a congenial atmosphere make this instute stand apart.
I exhort you all to make the most of opportunities in life, that this great institution offers to you and to move towards a better future. Make your stay in theis tample of learning a memorable one. I assure you that the learning skills tested and honed here will stand you in good stead,whereever you go and settle downin any part of the globe. Don't just learn, but acquire knowledge.